Capilano Driving School © All rights reserved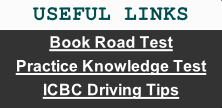 Welcome to Capilano Driving School
Licensed by ICBC Since 1970
Providing Driving Training Services to North Shore, Burnaby, and Vancouver

CAPILANO DRIVING SCHOOL LTD.
SCHOOL POLICIES
1. Students must provide a valid Driver License including BC Learners Driver's License or a foreign driver's license before the first lesson. Students must carry their license at all times during training.
2. Road tests can be booked either by the student or by Capilano Driving School. The student must sign the consent and release form before Capilano Driving School can book a road test on their behalf.
3. Payment must be made in advance of each driving lesson, road test session, or selected driving package.
4. There will be no refunds for driving lessons or road test sessions that have been registered; however, they can be postponed.
5. There will be a maximum of 3 people (including instructor and student) in the driving school vehicle during the student's lesson time.
6. If you wish to cancel a driving lesson, we require 24 Hours Notice; otherwise, there will be a cancellation fee of $50.
7. To cancel a road test appointment made by Capilano Driving School, we require 72 Hours Notice, as we must notify ICBC. Failure to give sufficient notice may result in the student having to pay the ICBC Road Test Cancellation Fee of $25.